Meet your business goals!
Today's food and beverage industry has ballooned to a trillion-dollar industry. But newcomers and struggling Restaurant businesses may find themselves having a hard time competing with the biggest brands and restaurants.
Regardless of what type of food or beverage you are trying to sell, your goal remains the same: attract new customers, create lasting relationships, and meet your business goals.
Using data-driven and creative marketing tactics, SERP Matrix allows business owners to experience tangible results along with a maximum return on their investment. Our team is ready to generate and convert quality leads that will help you maintain a strong presence in the food and beverage industry.
---
SEO For Houston Restaurants, Food, and Beverage
The users who are looking for bars, restaurants, and eateries are most likely to choose a location in a rush. Because of this, you need to ensure your digital presence is easily visible to those who are browsing for dinner options on their mobile phone.
Our search engine marketing experts help you reach your audience by taking information about your location and submitting it to search engines. Once submitted, we use on-page and off-page search engine optimization tactics to maximize its reach. The goal remains the same: making your offerings easily visible to potential customers.
Through our search engine optimization services, your foods and drinks will be noticeable by both residents of the city as well as visitors who are looking for something new to try.
---
Houston Food and Beverage Web Design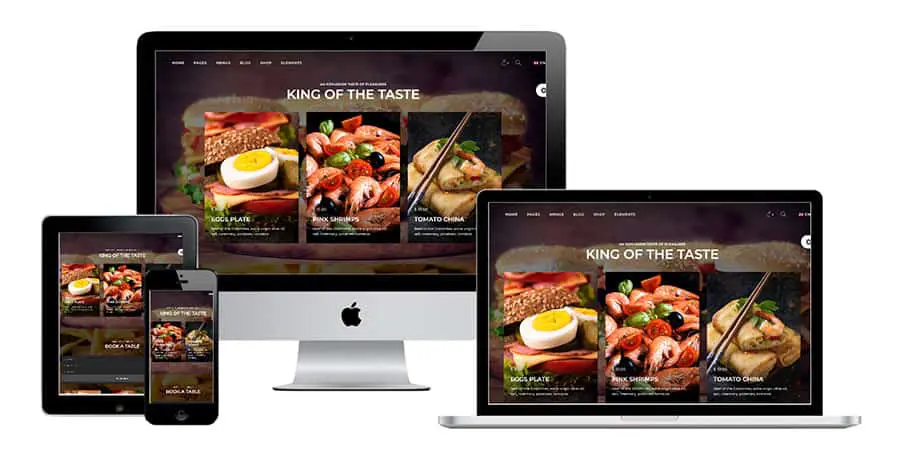 Food and beverage services require a strong website to consistently draw in new customers. However, many owners of these businesses are so busy with keeping their stores running that they end to forget that their website is lacking menus, photos, and up-to-date information about their offerings.
Building a responsive website is one of the most important steps of marketing your service. If you want to make a positive, lasting impression on your customers and visitors, our web designers can craft a unique website that properly represents your company.
We have everything you need to make sure your website is filled with quality content that convinces readers to give your Bar, Restaurant, or Eatery a try. By combining a medley of content creation services such as professional photography and content writing, we give your digital landing spot the helpful information it needs. Rank highly in search engines and create a stellar user experience with the expertise of our web designers.
---
Digital Marketing for Food and Beverage
By identifying a target audience, we help you gain insight into what type of customer your marketing efforts should be targeted to. To receive the best results, you need to focus on marketing to a specific type of consumer who's seeking what you have to offer. We help you build this customer persona so you can stay strategized throughout the duration of your campaign.
SERP Matrix can help you in creating professional branding for your company. Our graphic design team has an extensive background in helping food and beverage brands creatively convey their message while extending their reach to the masses. By building custom graphics, we do what it takes to help you become a household name.
Lastly, marketing the website is critical if you want to maximize your reach. Once you have a website that establishes you as a viable digital brand, it's time to optimize your online presence in a way that drives traffic to your homepage. By using search engine optimization and digital marketing tactics, we are able to create organic growth that will lead to more sales for your business.
Restaurants lend themselves to video production and advertising incredibly well. Everybody loves to salivate over delicious-looking food, and promo, brand, and commercial videos allow your business to capture more of the experience.
---
Food and Beverage Markets We Serve
BAR
Bars provide their customers with a hyperlocal experience that's inherently unique to their community. In most cases, the typical bar's main goal is to cater to local residents and offer them a leisurely venue with quality beverages.
If you currently own or manage a bar, you may be struggling to bring in new customers on a regular basis. Unfortunately, in today's society, it is no longer enough to simply count on word of mouth and a solid reputation to convince more individuals to give your business a chance.
The food and beverage industry is extremely competitive, which makes it hard to reach your goals unless you are putting in maximum effort towards properly marketing your brand. And as more and more individuals turn to search engines to help them find the next hot spot around town, bar and restaurant owners are continuing to turn to digital marketing to help them increase foot traffic.
At SERP Matrix, we use cutting-edge Internet marketing tactics that help your bar stand out from the plethora of bars in Houston.
BEER
As craft beer becomes more and more popular, the opportunities for success continue to become more common for brewery companies. But if you expect to capitalize, you'll need the help of a marketing agency.
The Internet has helped beer drinkers all around the world easily find their next favorite ales and IPAs. As a result, there are countless amount of microbreweries trying to stand out from the competition and make a lasting impact on consumers.
Through an assortment of creative advertising tactics, SERP Matrix can help you achieve your goals and elevate your business.
WINE
To consumers, wine is much more than a product for consumption. It has evolved into a lifestyle and experience integral to the lives of many. But to properly market your crushed grapes, you'll need to craft a unique story that acts as the backbone of your brand.
SERP Matrix makes wine marketing possible. Featuring tactical, content-based digital marketing campaigns, our agency helps you position your brand as a provider of a unique product every wine connoisseur desires.
As a wine marketing agency in Houston, we use a medley of tools to carefully craft your brand's message and optimize it for maximum exposure. Our team of experts can push your product forward and take it to the next level using our digital marketing proficiency and creativity. Through extensive market research, quality website design, search engine optimization, and content marketing, we have what it takes to bring measurable results to your business.
Houstonians dine out more than any other city, giving restaurant owners an endless amount of chances to make a great impression and stand out from the many other eateries around the city. As technology and the Internet continue to impact our society, food enthusiasts are turning to search engines more than ever to help them find the next best restaurant. Today, it is imperative for any restaurant owner to ensure they have a strong digital presence.
Using industry-leading tactics, SERP Matrix can help your restaurant expand its reach and acquire customers. We implement strong marketing, web design, and professional photography services to provide our customers with everything they need to make a lasting impression on potential customers.
---
 Food and Beverage (Restaurant)
Website Design Template

Find a Food and Beverage Digital Marketing Agency in Houston
We combine a medley of tactics and strategies to help food and beverage companies reach their goals and increase revenue. If you need help marketing your product, bar, or restaurant, SERP Matrix is ready to build a digital marketing strategy for you. Call us today at (713) 287-1134 for more information.
Turn Clicks into Customers