Grow Your Customer Count…
Most bars in the United States are distinctly local businesses that thrive on creating relationships with their customers and generally rely on solid amounts of foot traffic to keep business running. While word of mouth can be a beneficial way of attracting new clientele for these bars, the truth remains that a digital presence will still be a must for any kind of long-term success.
Many bars can be reluctant to engage in digital marketing efforts because it often seems that business is steady and the bottom line is not suffering, so there is rarely any reason to make an investment. It may only be increased competition from other competing local bars that finally makes some bar owners finally realize that additional steps need to be taken to attract new customers.
Even well-established bars that have been in neighborhoods for generations can be in need of digital help because chances will be good that people who are visiting areas from out of town will not be aware of what bars have been in town for several years. With a few tweaks to an existing website, a bar can reach new customers and help drive continued growth that makes digital marketing efforts rewarding rather quickly.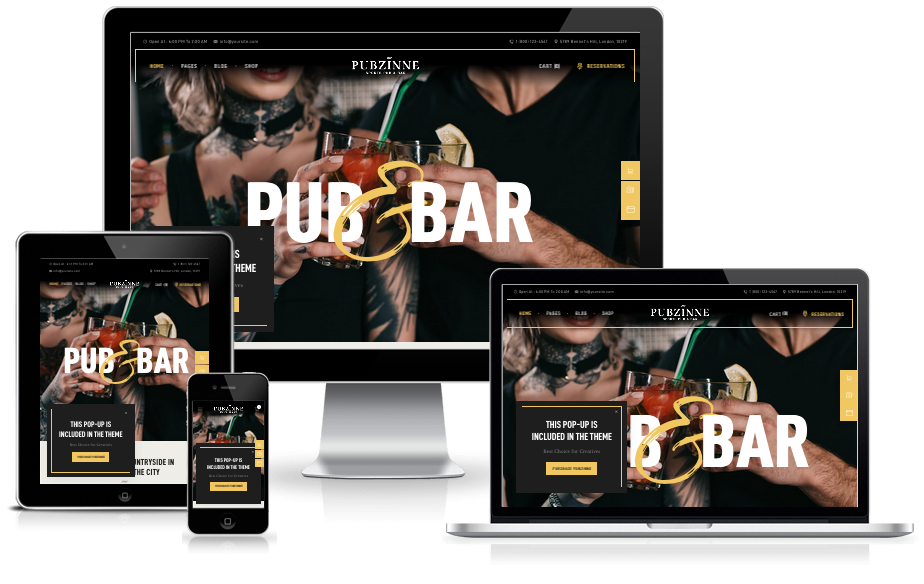 In most cases, search engine optimization (SEO) will be incredibly important to a bar because appearing on the first search engine result page (SERP) will be enormously important in reaching new customers. Numerous aspects of your website are instrumental to your SEO rankings and SERP Matrix can ensure that everything is at its most effective so you are ranking as highly as possible.
If your bar needs content writing, professional photography, or backlinks for your website, SERP Matrix can help. We understand why bars are reluctant to invest in a digital strategy, but we will be able to show you how you can get a very solid return on your investment.
SEO for Bars
---
When people are looking for a bar in almost any local area, they are increasingly likely to use Google or another search engine for a spot to drink at. SEO becomes incredibly important to local bars because the bars with websites that are most SEO-friendly are likeliest to rank higher in SERPs.
For most bars, local SEO becomes of the greatest importance because a bar is going to want to make sure that it is especially likely to rank higher in searches for "bars near me" or bars with specific location signifiers such as zip codes or cities. SERP Matrix will be able to properly secure accurate Name, Address, and Phone Number (commonly abbreviated simply as NAP) data listings so there are no issues with possible duplicate listings or incorrect NAP data.
We also know how to help bars get the kinds of reviews that are needed to help an establishment rank higher in Google or Yelp searches. Our team is going to be able to work to get all of the necessary reviews and feedback needed to demonstrate your popularity with your customers and attract new traffic.
SERP Matrix can also perform a business listings scan that gives you the SERP Matrix Review Platform and helps you generate authentic, first-party reviews directly from your customers. We also provide an SEO services guarantee that means we meet or beat any guarantee offered by a comparable SEO firm and a portion of fees for which services were not performed will be refunded if we fail to complete services per the written agreement.
As the website Main Street ROI noted, the three reasons bars should invest in local SEO include yellow pages no longer being utilized because of the growth of web searches, free traffic from high search rankings, and the quick results that can be achieved. A solid strategy will involve picking the best keywords, optimizing content for those keywords, gathering citations and links, asking for reviews, and tracking results.
Bar Web Design
---
When a bar is creating a website, it is going to want a page that accurately reflects the kind of atmosphere that people can expect when visiting the bar. Some bars may want to focus on particularly elaborate drinks that are served while others may want to showcase the kind of environment that a person can expect when coming into the bar.
One of the big advantages of working with SERP Matrix will be access to professional photography services that allow you to get high-quality images of the drinks and people you serve. Such photographs can be extremely valuable because they will be unique and avoid many of the same tired stock photos that are being utilized by other competing bars.
Beyond how your website looks, SERP Matrix will also examine how well your website functions and whether visitors are able to quickly locate the areas they may be looking for. Our team will be able to give you an independent opinion of how well a website is working and then offer suggestions for improvement.
Our content writing team can write material that accurately describes your most unique offerings and put into words what makes you unique and merits a visit. SERP Matrix also handles mobile app development services for bars that are especially concerned about reaching the growing numbers of people who rely on cell phones or mobile devices to perform their searches.
As Tribe Local points out, local SEO can be enormously important to bars because its practice will allow bars to maintain an online presence and add customer testimonials. You can also benefit from offering discounts and understanding the leverage of social media accounts.
Digital Marketing for Bars
---
Digital marketing can encompass a number of different concerns for a bar. SERP Matrix can begin with landing page design and testing services that will ensure that the page a person lands on can lead to additional clicks to further explore a bar website.
We also perform link-building services, such as audits that can uncover bad links which might be damaging your SERP results. This can help remove HTTP 404 Not Found Error pages and other errors that can negatively impact search results.
SERP Matrix can also handle reputation management services so you are not being harmed by bad reviews. When an issue arises that could potentially damage your reputation, we will know how to respond to minimize the possible damage.
Email Marketing for Bars
When it comes to email marketing, SERP Matrix offers both newsletter advertising and press release services. Email newsletters (or e-newsletters) are an increasingly common way of communicating with regular customers for many bars, and press releases remain one of the most effective ways of making major announcements.
PPC for Bars
Pay-per-click (PPC) advertising has become an area that is instrumental to success for many bars, but these kinds of campaigns can be difficult for the average person to manage when costs are considered. SERP Matrix knows how to run an efficient campaign that makes sure you are getting real results for everything you are investing.
A strong PPC campaign can generate a solid return on investment, but a poorly run campaign could result in major losses. SERP Matrix will know how to navigate this area for you so you do not have to worry about wasting your time.
Social Media Marketing for Bars
While search engine submission is certainly important, accompanying social media also cannot be ignored. Whether your bar is on Facebook, Twitter, or Instagram, SERP Matrix will know how to utilize these websites so you are able to most effectively communicate on social media platforms.
We also assist bars with logo and graphic design services. You can learn more about our social media marketing and video marketing services by visiting those pages on our website.


Are you looking to get the most out of your social media presence? If so, then a bar promo video from SERP Matrix is just what you need! With our professional video production services, we can create an engaging commercial video that will help you promote your bar and attract new customers. Our videos are designed to be eye-catching and memorable, making them perfect for promotional and advertising purposes. We also offer post-production services so you can make sure that your bar promo video looks its best before it goes live on social media. Get ready to make a splash with SERP Matrix!
Texas Bar Markets We Serve
---
SERP Matrix BARS Websites

Find a Bars Web Design Company in Houston
If you want to get a better idea of how well SERP Matrix has served our previous clients, please review our testimonials. You can request a quote if you are interested in taking advantage of our services.
You should know that SERP Matrix has worked with scores of clients in the food and beverage industry. We understand the extreme demands that can be placed on bars and the thin margins they may be working under, so we will work closely with you to find the most affor