Grow Your Practice Patient Count…
There is little doubt that high rankings on search engine result pages (SERPs) can positively impact house cleaning companies, as an organization that ranks on the top of the three-pack local listing and organic search results will have far higher click-through rates than most of their competitors. For this reason, search engine optimization (SEO) is incredibly important to house cleaners of all sizes in the Houston area.
The good news for most house cleaning companies is that ranking highly in search engines is not always a matter of money but just a smart allocation of existing resources. You will want to make sure that you are working with a knowledgeable company that can help you maximize your online presence.
SERP Matrix is a Houston-based company that helps clients all over the nation get the results they are seeking when it comes to online searches. We understand the struggles inherent to house cleaning businesses but we also know how to help these companies overcome difficulties and gain a stronger footing online.
SERP Matrix has assisted all kinds of clients in the home services industry, including house cleaning companies in Houston and many surrounding areas of Texas. Our team will be able to sit down with you and discuss every aspect of a plan to dramatically boost your SEO rankings.
There is no getting around the fact that many people seeking house cleaning services will inevitably turn to Google or another search engine to try and find a company in their area. This means that many of the long traditional methods of advertising, such as phone books, are now somewhat obsolete.
When it comes to SERPs, local SEO has become even more important because many people perform searches using phrases like "house cleaners near me" or specific location data such as zip codes or cities. Such search results will usually be limited only to house cleaning services located near a person, and SERP Matrix will make sure your Name, Address, and Phone Number (commonly abbreviated simply as NAP) data listings are accurate so there are no issues with duplicate listings or incorrect NAP listings.
Reviews on websites like Google or Yelp can also have a big impact on search engine rankings for house cleaning companies, making effective review management an even larger priority. SERP Matrix will be able to help you address any negative reviews and also generate more positive ones.
We will also provide a business listings scan that includes a SERP Matrix Review Platform and lets you generate authentic, first-party reviews directly from your customers. All of this is done with an SEO services guarantee that meets or beats any guarantee offered by a comparable SEO firm, and a portion of fees for which services were not performed will be refunded if we do not complete services per the written agreement.
The website Service Autopilot notes that there is a three-part strategy for improving the SEO of a house cleaning business: Simple website improvements, networking with other websites and rounding out your digital presence.
---
House Cleaning Web Design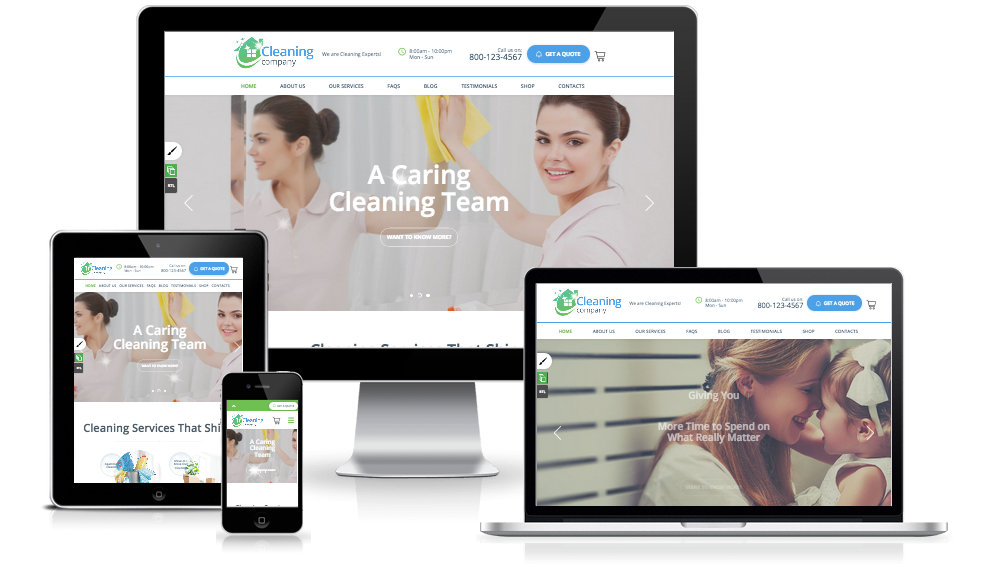 House cleaning companies need to keep in mind that their websites are often the only way that they will effectively communicate the services offered to potential clients, and this makes the information contained and presented on websites even more critical. When a website is incomplete or functions poorly, chances are high that a person will give up on using it and instead try to seek information from a competitor.
SERP Matrix can begin with mobile app development services, which will ensure that anybody visiting your website can view it seamlessly even on cell phones or mobile devices. Companies that overlook mobile website concerns frequently lose customers when websites fail to function as hoped on mobile devices.
We also have an exemplary content writing team that can deliver unique and compelling material for your website that effectively explains what you do and why you are the best in your field. You can count on SERP Matrix to deliver web pages that are completely different from much of the repeated material elsewhere on the internet, and we can also help write many other kinds of material such as blogs or social media posts.
You can also get professional photography services from SERP Matrix that allow you to demonstrate a whole variety of aspects relating to your company, whether it is photos of equipment, employees, or rooms. Utilizing this tool of ours will also allow you to avoid having to rely on the same tired stock images that dominate many of the websites of your competitors.
FreshySites ranked the top 50 house cleaning websites of 2020 and frequently gave high marks to websites with simple designs and prominent calls to action. SERP Matrix will be able to deliver you a top-of-the-line website for a house cleaning company.
Digital Marketing for House Cleaning
---
When it comes to digital marketing with a house cleaning services company, you will be making sure your website and other online technologies are effectively promoting your products and services. SERP Matrix will perform landing page design and testing so you can be sure that the page you are using for pay-per-click (PPC) or other campaigns is functioning as best as possible.
You can also count on SERP Matrix to assist you with reputation management issues. We will know how to deal with damaging reviews while also compelling customers of yours to become advocates for your company.
We also handle link building for house cleaning companies to make sure that all hyperlinks connected to your website are quality links that help your SERP rankings rather than hurt them. Whereas many companies once believed that multiple links were always beneficial, the truth is that some links to harmful websites can have a negative impact on a company's website rankings.
SERP Matrix creates awesome marketing videos to help your Home Services business grow online. Promotional marketing videos are a powerful way to spread brand awareness and drive traffic to your site.
Email Marketing for House Cleaning
---
Email is perhaps the most popular form of communication with clients for companies, but it can be difficult to craft emails that actually get opened. With SERP Matrix, you can take advantage of newsletter advertising, or email newsletters (also known as e-newsletters), which help companies communicate with existing clients to keep them updated on all of the latest news.
We also provide press release services that could be beneficial for some emails. A press release can also be picked up by Google News or another major website when it is published, possibly having another boost for SERP rankings.
PPC for House Cleaning
---
PPC advertising is extremely common for many house cleaning companies because people searching for certain services will be more likely to click paid links and then purchase from that advertiser. Despite the frequently strong returns in PPC campaigns, they can be especially tricky to manage as a company needs to be careful with how much it is investing in the right keywords.
SERP Matrix handles PPC campaigns of all sizes and knows how to generate real conversions so you can be sure that you are getting maximum bang for your buck. PPC often has a far greater return than traditional organic listings, so it is critical for a company seeking to invest in PPC to make sure that its campaign is being run as effectively as possible.
Social Media Marketing for House Cleaning
SERP Matrix handles social media marketing for websites like Facebook, Twitter, and Instagram. We are well aware of how these websites can be used to help companies communicate with clients and interact in a refreshing manner.
You could also benefit from our logo and graphic design services that could be used to not only spruce up your website but also dramatically improve elements of your social media profiles. We also have video marketing services that could be especially useful for social media purposes.
Texas House Cleaning Markets We Serve
Weekly Cleaning
Bi-weekly Cleaning
Monthly Cleaning
Regular Cleaning
Spring/Deep Cleaning
Move-in/Move-out Cleaning
Carpet Cleaning
Window Cleaning
Sofa Cleaning
Residential Cleaning Services
Commercial Cleaning
Basic House Cleaning
Laundry Services
Green Cleaning
Sanitization Services
Ceiling and Wall Cleaning
Blind Cleaning
Curtain Cleaning
Carpet Cleaning
Upholstery Cleaning
Chimney Sweeping
Office Cleaning
Disaster Cleaning and Restoration
Window Cleaning
Pressure Washing
Restroom Cleaning
Janitorial Services
School Cleaning
Medical Cleaning
Sports Cleaning
Cleaning Company Website Theme