Grow Your Practice Patient Count…
You want your health care website to show up at the top of Google's search results. Why? Because 73 percent of patients turn to search engines when finding a health practitioner, and 89 percent of consumers turn to a search engine when they're looking to solve their healthcare queries. Since 55 percent of searchers click on one of the first three entries, if your hospital or treatment center isn't in the top three, you're losing patients to your competitors.
If you are looking to grow your medical practice or solicit more patients to your health clinic or hospital, you'll need to create a medical and health marketing strategy that fits your goals and your budget.
While marketing for medical and health care can and should be done both online and offline, digital marketing is cutting edge in recent years. Let's take a look at some of the best Internet marketing tactics for the health care industry.
---
SEO For Houston Healthcare Professionals
Now that you have a quality website that properly represents everything you are trying to offer the world, it's time to build upon your digital marketing campaign with search engine optimization. Local SEO includes:
The vast majority of individuals in today's society use search engines to find healthcare. Because of this, you want to be one of the leading websites when they search for your service in your city.
The SERP Matrix team submits your website to search engines so you can be picked up by Google, Yahoo, Bing, and many more. We then supplement this by acquiring high-powered backlinks from trustworthy domains. Not only will this increase your credibility, but it also helps you rank. Search engine algorithms continue to change, and they count link building as a major factor in rankings. We help you maintain your digital presence by closely studying these trends and adapting accordingly.
Our professional writers help you rank highly for keywords by creating original content that is geared around the keyword phrases you want to target. If you have a dentist office in Houston you are trying to promote, we drive attention to your practice by composing engaging, informative content that will help you reach the first page of Google.
---
Healthcare Website Design
Digital marketing begins with creating a well-crafted website that properly represents everything you have to offer. Before you begin to target your ideal demographic, you need to start with a strong website that will help you tell your story the right way.
Our web designers have years of experience helping healthcare professionals craft sophisticated websites that represent their practice and services well. Using the most up-to-date tactics, we develop custom websites and landing pages that will catch the eye of your ideal patient and help your practice reach new heights. 
After developing your website, we keep up with your digital presence by properly maintaining your website. The Internet is always changing, and websites and search engines continue to develop and evolve. SERP Matrix helps you keep up with the times by updating your web presence whenever we feel it is necessary. With us on your side, you can confidently focus on your practice with the peace of mind of knowing that you have experts who are handling everything else. 
---
Healthcare Digital Marketing Services
As a healthcare provider, a consistent stream of new clients is the lifeblood of your business. This allows your practice to grow and reach new heights while also helping your community receive the medical attention they need. 
Since consumers and patients are progressively turning to online resources when performing health-related research, it's essential that your company is visible on the search engines, in local directories, and on prominent social media platforms. At SERP Matrix, we have the tools and experienced staff to design a digital marketing plan that will draw new visitors to your website, and convert those visitors into paying customers.
Our vast experience working with top healthcare companies and healthcare technology solutions companies has made us skilled in what it takes to create a successful healthcare marketing strategy.
Our thorough approach to digital marketing covers a wide span of services that work together to help you be the best answer for your customers, whenever and wherever they're searching. SERP Matrix healthcare digital marketing services include:
Influencer Marketing
Conversion Rate Optimization
Website Analytics
Today, every industry is using video marketing to connect, and the healthcare industry is no exception. As technology advances, healthcare uncovers new ways to provide exceptional care and treatment for patients. SERP Matrix offers video production for pharmaceutical and medical companies to speak directly to doctors, patients, returning clients, and future clientele to market potentially life-changing procedures and treatments that will influence the future of the healthcare industry.
---
Texas Healthcare Markets We Serve
Although these forms of healthcare differ in ways, they all have at least one thing in common: they require search engine optimization services and strong digital marketing techniques to maximize their reach. 
ACUPUNCTURE

ASSISTED LIVING

DOCTORS

FITNESS

HOLISTIC AND ALTERNATIVE HEALTH

HOSPITALS

OB/GYN

ORTHOPEDIC

OSTEOPATHS

PERSONAL TRAINER

PHYSICAL THERAPY

PHYSICIANS

PLASTIC SURGERY

PODIATRY

PSYCHOTHERAPIST

REHAB

SENIOR LIVING

SUPPLEMENTS

VETERINARY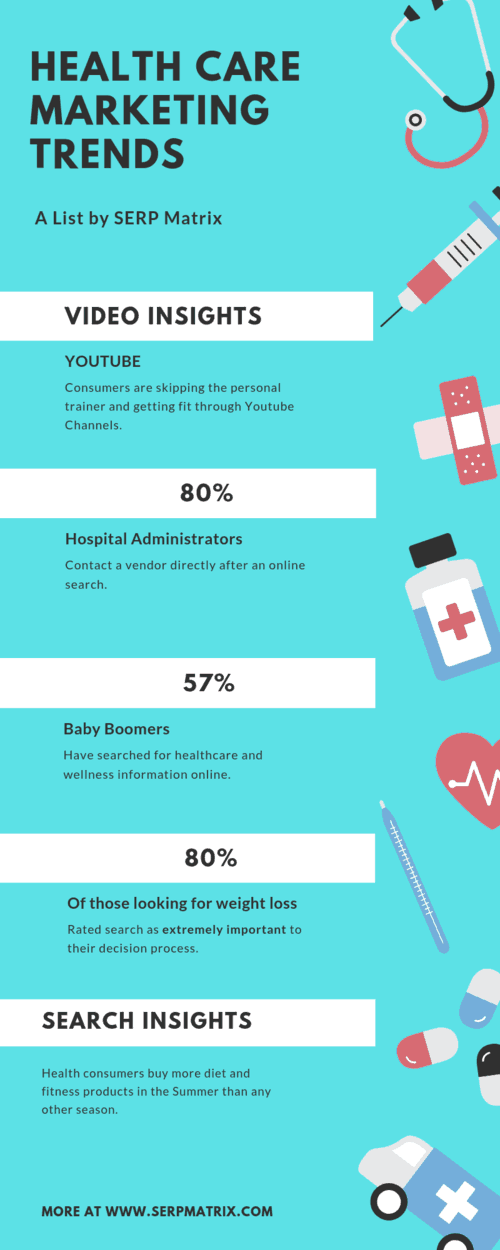 ---
Healthcare Web Design Template
Find a Healthcare Web Design Company in Houston
SERP Matrix has a team of SEO experts who are ready to help your practice manage its online presence while gaining new clients. Through web design, local search optimization, and reputation management, we help companies in the healthcare industry reach new heights by properly marketing your brand in an ever-changing digital atmosphere. Call (713) 287-1134 to consult with a project manager today.