Grow Your Customer Count…
Many people who own and operate restaurants spend far more time in their kitchens and the back of the house in preparation for delivering food to their customers. While additional hours may be dedicated to payroll and other concerns relating to day-to-day business, there is rarely much thought given to maintaining an online presence.
In truth, however, a strong digital presence can make a world of difference for many restaurants. It becomes critical for many restaurants to get first-page search results in order to reach new customers and stand out from the possible competition.
Not all individuals involved in owning and operating restaurants are familiar with computers, and so many of these types of issues can be overlooked or outright ignored. It is important for any restaurant in need of web services to seek the help of an experienced digital marketing agency.
If your restaurant is in need of help with content writing, professional photography, or building backlinks to your website, SERP Matrix can help. We can perform an audit and help you determine the best ways to implement a digital strategy that serves all of your long-term interests.
Developing a stronger online presence will not only help you better reach your new customers but also maintain relationships with them and help ensure that these people regularly return to continue dining at your restaurant. SERP Matrix understands the hesitation that smaller restaurants may have about implementing a digital marketing strategy but we can work with you to make sure that you are able to find an answer that will work within the confines of your given budget.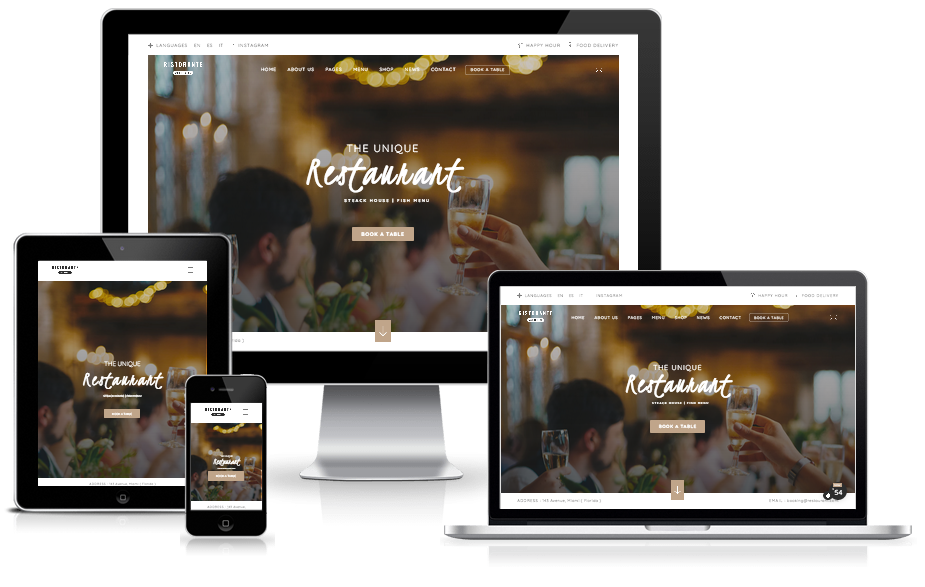 SEO (Search Engine Optimization)
The simple truth remains that many people who are interested in dining out are going to use Google or another search engine to look for somewhere to eat. It will be important to make sure that your restaurant appears on the first search engine results page (SERP) so you can have the best shot of earning their business.
Local SEO is enormously important to all restaurants in a given city, and SERP Matrix will be able to ensure that your restaurant is doing everything possible to rank as highly as possible. We can ensure that all of the proper Name, Address, and Phone Number (commonly abbreviated simply as NAP) data is being used, as many restaurants are hurt by having multiple listings that can confuse search engines and hurt SERP results.
SERP Matrix can also help you get the online reviews needed to appear more highly in Google and Yelp searches. Our team will also be able to look at your online content to make sure everything is optimized as much as possible to make the format match what search engines are looking for.
When you work with SERP Matrix, we will also be able to perform a business listings scan and give you the SERP Matrix Review Platform that helps you generate authentic, first-party reviews directly from your customers. You should also know that SERP Matrix provides an SEO services guarantee, which means we will meet or beat any guarantee offered by a comparable SEO firm and a portion of fees for which services were not performed will be refunded if we fail to complete services per the written agreement.
Search Engine Journal published a list of nine SEO tips for restaurants that included defining SEO (search engine optimization) and content strategies, dominating local search, engaging with customers on social media, encouraging reviews, and creating unique content. The article also discussed considering content localization, applying basic on-page SEO best practices, thinking mobile, and implementing schema "restaurants" markup.
Restaurant Web Design
---
Websites can be extremely important to restaurants because what people see online can be a huge factor in dictating whether or not the person will be coming in to eat. In many cases, restaurants are going to want to have sharp photographs of their food offerings and dining settings to try and capture the attention of their website visitors.
SERP Matrix offers professional photography services that allow us to take high quality images of the food you serve and the interior settings of your restaurant. Your photos will be unique and relate directly to your restaurant instead of you having to rely on tired stock images that may be the same pictures being used by your competitors.
With SERP Matrix, you will also be getting a hard look at how well your website functions and allows visitors to quickly find whatever they are looking for. We will be able to study your website and address all of the different issues that your visitors may be encountering.
We also have a content writing team that is going to be able to make sure that all of your text is original and clearly informs your possible customers what they can expect when they dine at your restaurant. SERP Matrix also understands that a significant number of people now perform searches from their phones or mobile devices, so we also offer mobile app development services.
As Suzanne Scacca wrote for Smashing Magazine, the "restaurant industry tends to run on very slim profit margins, so it's hard to justify spending money on a professionally designed website when all they want it to do is list their hours of operation and menu." Scacca touched on the importance of modernizing a restaurant website, diversifying income, and fixing brand images on third-party websites.
The article went on to note that restaurants need to think beyond just improving their basic websites. Companies have multiple concerns that are going to need to be addressed to compete in the digital space that now dominates the restaurant industry, so anybody who is operating a restaurant these days will have to take the time to invest in all of the different issues that will be involved in long-term success.
Digital Marketing for Restaurants
---
When you work with SERP Matrix, you are going to be getting complete attention given to all aspects of a digital marketing strategy. In addition to all of the aforementioned services, there are many other areas in which we will be able to assist your restaurant.
SERP Matrix will be able to perform landing page design and testing services so you can be sure that your chosen landing page is leading to the clicks you are seeking. We can also perform the link-building services you need to get valuable backlinks and help rank higher in SERPs.
SERP Matrix also handles logo and graphic design for restaurants that may not have anybody capable of web design. Pay-per-click (PPC) advertising is also becoming increasingly important to many restaurants but campaigns can be especially tricky to manage, and  SERP Matrix will know how to run a smart campaign that effectively manages your money while delivering real results.
SERP Matrix can also help with newsletter advertising, press release services, and search engine submission. We will be able to track all possible metrics relating to the success of a campaign, including open rates, bounce rates, and click-through rates.
We also thoroughly understand the importance of reputation management to restaurants and can take the steps needed to make sure that your online reputation is being effectively managed so there are no issues that harm your SERP rankings. Reputation management may be more important to restaurants that have been harmed by negative reviews, and SERP Matrix will be able to help you overcome this problem.
SERP Matrix also handles social media marketing and video marketing services that can be extremely valuable to many restaurants. Our web design and development services include static websites, dynamic websites, personal websites, e-commerce websites, corporate websites, and many other kinds of web applications.
Restaurants lend themselves to video production and advertising incredibly well. Everybody loves to salivate over delicious-looking food, and promo, brand, and commercial videos allow your business to capture more of the experience.
Texas Restaurant Markets We Serve
Fast food restaurant
Fast-casual restaurant
Cafe
Pop-up restaurant
Bistro
Trattoria
Cafeteria
Food truck
Diner
Osteria
Taverna
Steakhouse
Brasserie
Pub
Buffet
Gastropub
Sandwich bar
Fine dining
Casual dining
Contemporary casual
Family style
Ghost restaurant
---
SERP Restaurants Websites

Find a Restaurant Web Design Company in Houston
To get a better idea of SERP Matrix's previous success with our clients, look at our testimonials. If you are interested in having us take a look at your website, then contact us to request a quote.