Grow Your Practice Patient Count…
In many ways, hospitals are at the same mercy of online searches that other kinds of businesses they do not directly compete with are, such as restaurants or hotels. With the number of health care providers increasing, there is increased competition for helping people get well when they are sick.
People nowadays are capable of searching for information about hospitals, including detailed information about doctors and reviews of their services. Hospitals as a result must make a concerted effort to maintain their own web design and email marketing campaigns.
The concept of search engine optimization (SEO), or the techniques utilized to help a website rank higher in most search engine result pages (SERPs), becomes increasingly important to most hospitals. Hospitals will want to make sure that they are trusted places with positive reviews on most websites.
SEO will help a hospital build its online presence and increase traffic to its website. Beyond SEO, a hospital must also consider its branding, web design, content marketing, social media outreach, community involvement, and other creative materials.
SERP Matrix serves all kinds of clients in the health care industry, including hospitals in the greater Houston area of Texas. We will be committed to making sure that you are ranking as highly as possible in search engines and doing everything possible to maintain a solid online reputation.
This issue of SEO cannot be ignored by hospitals because most people who are visiting hospitals these days will find the hospitals through searches of Google or other search engines. The truth remains that people will not be going to the yellow pages of their local phone books to look for hospitals anymore.
The concept of local SEO becomes even more important for hospitals because people conduct their searches using phrases like "hospitals near me" or specific location data such as zip codes or cities. Their search results will be limited to hospitals near them, and SERP Matrix can ensure that your Name, Address, and Phone Number (commonly abbreviated simply as NAP) data listings are accurate so there are no issues with duplicate listings or incorrect NAP listings.
Hospitals will also have to deal with the effect of reviews on websites like Google or Yelp, and SERP Matrix will know how to leverage positive reviews while finding a way to counter negative reviews. We understand the importance of a hospital's reputation to its reputation online.
With SERP Matrix, you will also receive a business listings scan that includes a SERP Matrix Review Platform and lets you generate authentic, first-party reviews directly from your customers. We will also give you an SEO services guarantee in which we will meet or beat any guarantee offered by a comparable SEO firm, and a portion of fees for which services were not performed will be refunded if we do not complete services per the written agreement. 
As the website Healthcare Success notes, on-site or on-page technical SEO concerns for hospitals include title tags, SEO metadata, site speed, mobile responsiveness, keyword meta tags, alt tags, H1s and H2s, anchor text links, footer, sitemaps, and changing content. Off-site SEO techniques may include press releases, healthcare directories, blogs and articles, social media, and reputation management.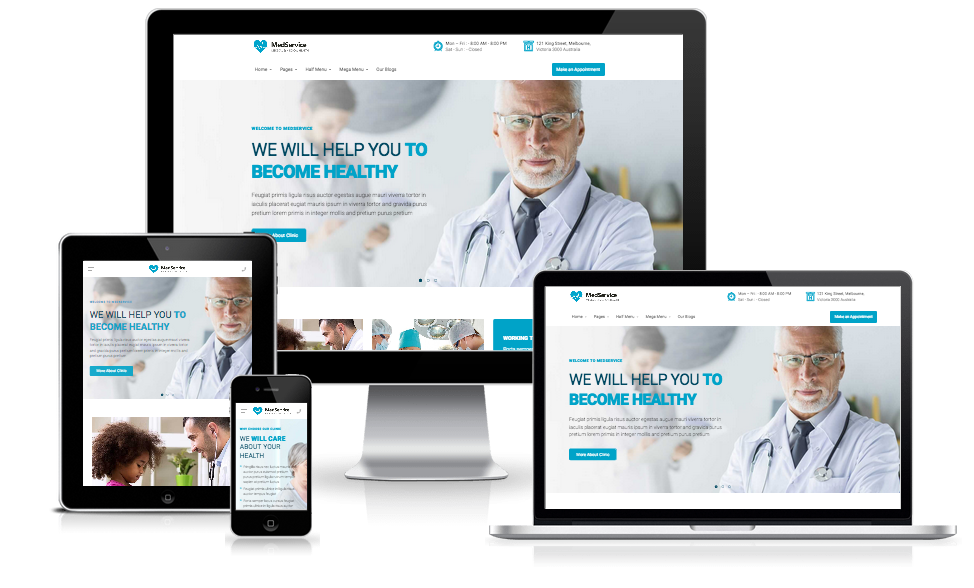 A hospital needs to take the effectiveness of its website seriously because it is frequently the one place that multiple people will go to in order to get information about a hospital. Websites that are plagued by technical issues or do not contain the information being sought can mean that possible patients will instead seek service from a competing hospital.
With SERP Matrix, you will get a content writing team that can create completely fresh and new content for your website that is not the same duplicative material found on other websites. We will make sure that every page on your website is filled with information that is valuable to your patients and also helps with your SEO rankings.
Beyond writing, we also offer professional photography services so you can get original and high-quality images relating to your hospital. The ability to use your own original images will help you avoid having to rely on the same stock images that are commonly used by many other hospitals.
You should also know that SERP Matrix can also assist you with mobile app development, a critical concern for many hospitals because of the number of people who are performing searches on cell phones or mobile devices. We can review your website and make sure that it is functioning as seamlessly as possible.
Main Street ROI states that the five steps to boost Google rankings for a hospital are selecting keywords, optimizing keywords, creating citations and links, asking for reviews, and tracking results. SERP Matrix can do all of this for you and more.
Digital Marketing for Hospitals
When it comes to digital marketing, SERP Matrix will begin with landing page design and testing that allows you to better understand how people are navigating your website when they visit a chosen landing page. We will be able to study how people are navigating your website and correct any issues they may be encountering.
We will also be able to assist you with any reputation management issues. In addition to reputation repair, we also perform reputation protection and reputation monitoring services.
SERP Matrix also handles link building for hospitals, ensuring that your hospital only has quality hyperlinks connected to its website. When a hospital's website has a bad link, it can negatively impact its SERP results.
Today, every industry is using video marketing to connect, and the healthcare industry is no exception. As technology advances, healthcare uncovers new ways to provide exceptional care and treatment for patients. SERP Matrix offers video production for pharmaceutical and medical companies to speak directly to doctors, patients, returning clients, and future clientele to market potentially life-changing procedures and treatments that will influence the future of the healthcare industry.
Email Marketing for Hospitals
Many hospitals will want to consider newsletter advertising, or email newsletters (also known as e-newsletters). E-newsletters are a terrific way for hospitals to communicate with existing patients and keep them updated on all of the latest news, but they may also be shared with people who were not patients but end up visiting the hospital because of what they learned about the facility in the newsletter.
SERP Matrix can also deliver press release services for email marketing that allow a hospital to quickly put an official press release on the internet and possibly impact SERP results. Press releases may be picked up by Google News or other major websites after being published and can dramatically impact ratings in some cases.
PPC for Hospitals
One fairly big area of concern for some hospitals is pay-per-click (PPC) advertising. PPC campaigns can be difficult for newcomers to navigate because they require a solid knowledge of what prices may be most advantageous when an advertiser is paying each time their ad is clicked.
SERP Matrix has handled scores of PPC campaigns and will be dedicated to making sure that your PPC efforts are generating real conversions, meaning people who actually follow through on website visits to actually visit hospitals. We can make sure your PPC campaign is also generating leads and promoting brand awareness.
Social Media Marketing for Hospitals
When it comes to social media marketing, SERP Matrix can assist you with your presence on websites such as Facebook, Twitter, and Instagram. We know how hospitals need these kinds of websites to communicate with their patients and foster engagement that makes the patients feel important.
Beyond social media, we also offer logo and graphic design services to really help create striking imagery for your social media profile. You can also take advantage of our video marketing service which could be beneficial for certain kinds of social media posts.
Texas Hospital Markets We Serve
Academic Medical Centers
Acute Hospitals
Ambulatory Surgery Centers
Children's Hospitals
Clinics
Community Hospitals (Nonfederal Acute Care)
District Hospitals
Federal Government Hospitals
For-Profit Hospitals
Free Hospitals
General Services Hospitals
Government-Funded Hospitals
Hospitals in a Network
Hospitals in a System
Independent Hospitals
Local Hospitals
Long-Term Hospitals
Municipal-Funded Hospitals
Non-Community Hospitals
Nonfederal Psychiatric Care
Nonfederal Long-term Care
Non-Teaching Hospitals
Not-for-Profit Hospitals
Osteopathic Hospitals
Psychiatric Hospitals
Rehabilitation Hospitals
Research Hospitals
Seniors' Geriatric Hospitals
Specialty Hospitals
State Hospitals
Teaching Hospitals
Trauma Center Hospitals
Trust Hospitals
Veterans Affairs (VA) Hospitals
---
HOSPITAL Web Design Template