Want to grow your website traffic?
The home services market is exploding with competition today, as major online companies dive into services such as plumbing, lawn care, home cleaning and home repair — and capture more of the market share. That's why, now more than ever, there is more competition for brands in this industry — and why knowing how to use and strategize home services marketing is so important.
Businesses specializing in-home services can be very profitable if they have a proper strategy behind them. There are always individuals who need roofing replacements, foundation repairs, flooring, landscaping, and other forms of residential maintenance. Investing in a digital marketing campaign centered around web design and search engine optimization can take your business to new heights.
---
SEO For Home Service Professionals
Instead of flipping through the YellowPages in hopes of finding the best plumber, contractor, landscaper, pest control, house cleaning, or carpet cleaning company in the area, individuals have turned to search engines to locate the top home service professionals in their city.
SERP Matrix optimizes your digital marketing campaign through the power of SEO. Using link building, content creation, and keyword targeting, our cutting-edge search engine optimization tactics work together to increase your online visibility and rank your website higher in search engine results pages. 
It is imperative for home service companies to embrace the current marketing trends and adapt accordingly. People are using search engines more than ever to help them find plumbing, home remodeling, pest control, and landscaping services. As a result, if you are not heavily investing in SEO services, you may end up seeing your company's website heavily drop in search engine results pages as your competitors rise to the top. 
SERP Matrix uses the power of SEO, web design, and reputation management to ensure your digital marketing campaign reaches its intended goals.
---
Home Services Websites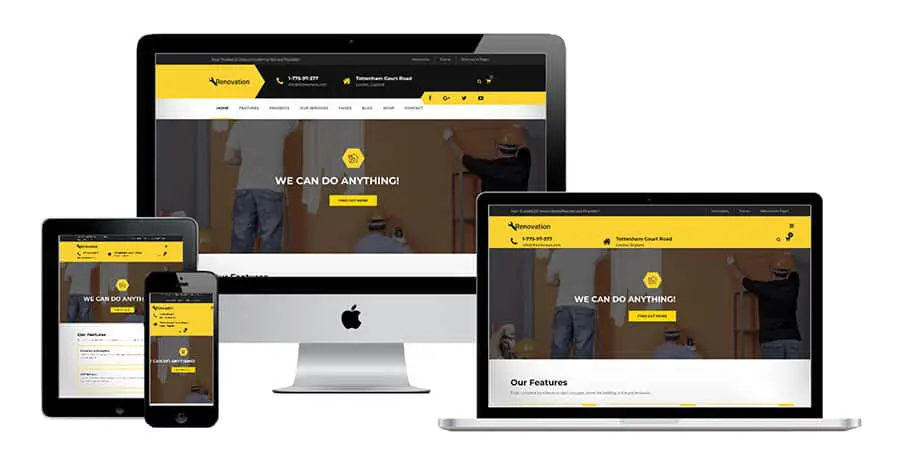 Ranking highly. The sophisticated algorithms of Google, Yahoo, and Bing all take in consideration the overall quality of your website. Because of this, if you are currently marketing a website that contains duplicate, subpar content, slow loading speeds, and an outdated sitemap, you are not getting the most out of your efforts. We optimize your website using tactics such as:
Our webmasters and designers enhance your brand by creating a custom website for your business. Because so many searchers are using their mobile devices for search results nowadays, we also optimize your website for smartphones and tablets. We have an in-house graphic design team who will work closely with you to understand your brand and create original designs that reflect the message you are trying to convey.
WEBSITE MAINTENANCE
The work is not done after the initial design of your website and the creation of original content. Search engines are always changing, and your ideal customer may change over time as well. SERP Matrix understands that marketing tactics must always adapt with the passing of time, which is why we work closely with you to properly maintain your online presence. 
Our web designers are always keeping up with the latest trends and updates in the digital realm, and we will adjust your website so you stay at the forefront of your industry. Along with this, our content creation team continues to research user intent so we can always have quality content that is ready to be posted to your website and social media platforms.
---
Home Services Digital Marketing
KEYWORD RESEARCH
Trying to develop your home service business and make yourself visible to individuals who are looking for this type of service?
By gaining an understanding of your business and analyzing our research, we create content around the keyword phrases you need to target. This helps you rank higher in search engine results pages and increase your online visibility. Our project managers work with you to understand your services, ideal customers, and overall business goals. We then use this information to create a custom marketing campaign that includes targeting keyword phrases that are used by your ideal customers. 
CONTENT WRITING
Service Pages – By creating descriptive service pages, you help your prospective customers understand exactly what it is you offer. 
Blogs – Blog posts are extremely important for service professionals, especially plumbers and home improvement companies. If you want to stand out from your competitors, consistently creating blogs that offer quality, relevant information helps you stand out from the crowd while also presenting yourself as an authority in your industry. 
Many homeowners who are looking for reliable home service companies may not know much about this industry. By creating infographics, how-to guides, lists for DIY tips, and other helpful informative content pieces, you develop trust with your audience and establish yourself as a brand that truly knows what it's doing. Use your blog to its fullest potential by consistently crafting posts that solve problems and educate readers.
EMAIL & ONLINE MARKETING
Companies can target prospects through their inboxes with email marketing, a tool that can build a sense of expertise via content, attract prospects with discounts, and/or remind customers of what a business offers.
For increased traffic and online leads, tools such as search engine optimization and PPC can be helpful, boosting a company in search results and helping it gain visibility online.
REPUTATION MANAGEMENT
Your online reputation matters, and it can have a huge effect on prospective customers who are considering investing in your services. 
SERP Matrix helps you repair, manage, and maintain your online reputation by minimizing and overcoming any negative content that is attached to your business. Using client testimonial videos, positive Google reviews, and other favorable content, we promote this and put it at the forefront of your digital presence so you can make a quality first impression on searchers.
SERP Matrix creates awesome marketing videos to help your Home Services business grow online. Promotional marketing videos are a powerful way to spread brand awareness and drive traffic to your site.
---
Texas Home Services Markets We Serve
CARPET CLEANING

ELECTRICIANS

HOME INSPECTION

LANDSCAPING

LAWN CARE

MOVING COMPANIES

PEST CONTROL

PET SITTING
---
Home Services Web Design Template
By hiring a professional SEO company to handle your digital marketing, you ensure your online presence is in the hands of an expert. This also gives you more time to focus on your business and what you know best. Review your services, add to your offerings, and grow your team while we focus on optimizing your website and managing your digital reputation.
Find a Home Services Web Design
Company in Houston
Increase sales, generate quality leads and boost your brand with the help of SERP Matrix. Our digital marketing professionals help you enhance your online presence by creating a unique plan based on your goals. Using Local SEO tactics, keyword research, content marketing, a real estate app provided by SERP Matrix, and more, you can be confident in our ability to maximize your reach and achieve tangible results. Call (713) 287-1134 to consult with a project manager today.
Turn Clicks into Customers