Grow Your Customer Count…
While many people might prefer to avoid them, the truth remains that anybody in the market for a new automobile is likely to turn to a car dealership when they seeking a new ride. Some people may rely on the dealerships in their area that they have become familiar with through previous business or simply driving by, but many others are going to be looking for dealerships online.
Search engine optimization (SEO) is a phrase that refers to the process of improving the quality and quantity of website traffic to a website or a web page from search engines. SEO will be incredibly important to most car dealerships because all dealerships want to rank as highly as possible to give themselves the best chance to possibly attract new customers.
In today's world, there will be no way for any car dealership to ignore the importance of SEO if they are to continue doing business for the foreseeable future. Any dealership that wants to attract new business as well as retain existing customers is going to have to be sure that its website can be easily found and is also extremely useful to all website visitors.
SERP Matrix has experience working with clients throughout the automotive industry, including companies in the greater Houston area of Texas. No matter where you are located, we are going to know how to make sure that you are establishing a strong online identity that leads to greater long-term success.
SEO for Car Dealerships
---
You can no longer ignore the basic fact that in most cases, people use Google or other search engines to try and find car dealerships. As a result, SEO is a basic concern for every single car dealership because every dealership has to rank as highly as it can to get the best results that are possible.
SEO these days involves a heavy focus on local SEO, which typically involves searches such as "car dealerships near me" or searches using specific location data such as zip codes or cities. Search results will be limited to only companies that are near the person performing the search, and SERP Matrix can guarantee that all Name, Address, and Phone Number (commonly abbreviated simply as NAP) data listings will be accurate so there are no issues with duplicate listings or incorrect NAP listings.
Reviews on websites like Google or Yelp will also play a somewhat large role in your local SEO rankings. SERP Matrix knows how to address negative reviews while also being able to help you get your customers to generate new positive ones that boost your search engine result page (SERP) rankings.
We will provide you with a business listings scan that includes a SERP Matrix Review Platform and lets you generate authentic, first-party reviews directly from your customers. Better yet, we offer an SEO services guarantee that meets or beats any guarantee offered by a comparable SEO firm and can give you a refund of a portion of fees for which services were not performed if we do not complete services per the written agreement.
Moz notes that Google My Business has been shown to have a direct correlation to local SEO for car dealerships, especially when it comes to showing up in the Google Local 3-Pack. They also pointed out the importance of NAP data and using categories to describe what your dealership offers.
Car Deal

ership Web Design 
---
Car dealership websites need to be more than just pictures of available stock, as it is incredibly important that website visitors be able to quickly find whatever it is that they are looking for. When websites are not as effective as possible, a dealership runs the risk of a visitor quickly being dissatisfied and leaving to look at the website of another dealer.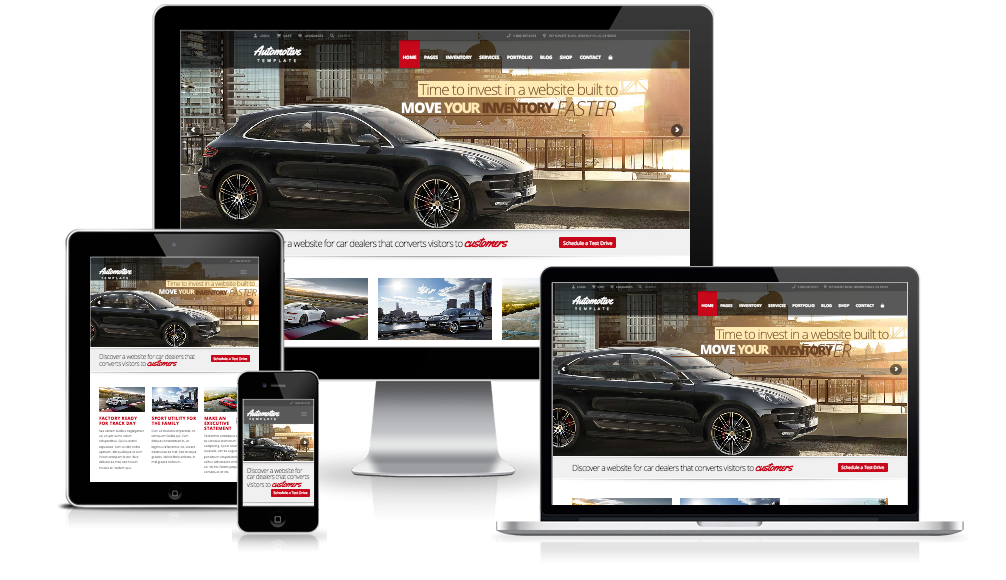 Among the services offered by SERP Matrix, content writing will be a major contributor to your SEO success. We will be able to deliver unique web pages that contain all of the necessary keywords and help you rank highly for a wide variety of searches relating to car dealerships.
Beyond the words, we also have professional photography services that will allow you to have unique and high-quality images of your employees, equipment, and other items related to your business. These photographs are much preferred to the same tired stock images dominating much of the internet, and they also provide a closer look at exactly the kind of dealership you are running.
You can also count on SERP Matrix to assist with mobile app development, an incredibly important area of concern these days because of the growing number of searches performed on cell phones or mobile devices. You are going to need to be sure that your website is functioning as best as possible on mobile devices because common glitches or other issues will lead to visitors abandoning your website.
In its ranking of the five best auto sales websites, FreshySites noted several attractive elements of websites such as high-resolution imagery right at the top of the page. It also called attention to calls to action being front-and-center and delivering crucial information in a compelling way.
Digital Marketing for Car Dealerships
---
You will need a diligent landing page design and testing for your digital marketing efforts, and SERP Matrix is going to be able to examine all aspects of your current landing page. We can institute the changes needed to improve performance while also finding other ways to boost your click-through rates.
You can also count on SERP Matrix to handle reputation management concerns that may be affecting your digital marketing strategies. We know how to make sure to improve your rankings on review sites and ensure you are being rated as highly as possible on all major websites so people can place immediate trust in you.
SERP Matrix also handles various link-building concerns. We understand that the old mantra about having as many links as possible is no longer accurate because certain links to bad sources can negatively impact search results, but SERP Matrix can remove any bad links while also creating new links to more beneficial sources.
Email Marketing for Car Dealerships
Email can be an especially tricky area of communication for car dealerships to navigate because while virtually all customers have email, only a few will be likely to actually read email correspondence. SERP Matrix has a few ways it can create emails that are far more likely to be opened and viewed.
We first offer newsletter advertising, or email newsletters (also known as e-newsletters), that allow you to more effectively communicate with your customers. You can also use us for press release services that may be of further use in some emails.
PPC for Car Dealerships
Pay-per-click (PPC) advertising is becoming a dominant form of advertising online and you cannot ignore how sizable a return you can get on even a modest investment. Still, PPC campaigns need to be meticulously managed to be successful, and SERP Matrix will be able to handle every aspect of your PPC campaign to ensure its success and so you do not have to worry about a thing.
With PPC campaigns, car dealerships are targeting searches for certain keywords to try and get people to click on their banners and hopefully generate new sales. SERP Matrix can perform relentless research into keywords so you are targeting only the ones that will directly lead to future sales.
Social Media Marketing for Car Dealerships
Your social media marketing for websites like Facebook, Twitter, and Instagram is also an area that cannot be overlooked because a growing number of your customers are using these kinds of websites to find information and communicate directly with dealerships. SERP Matrix knows how to oversee these accounts so you are regularly contributing and also responding directly to any questions or concerns your customers might have.
We can also help you with the logo and graphic design needs you might have. Our video marketing services can also be beneficial for social media websites as well as other possible uses.
Texas Car Dealership Markets We Serve
●
Franchised Car Dealerships
●
Independent Car Dealerships
●
Brand Specific Dealerships
●
Buy Here Pay Here (BHPH) Dealerships
●
Specialty Used Car Lots
---
SERP Matrix CAR DEALERSHIP Websites